Tom Cross
Chairman
Tom Cross wears many hats. In 2001, Tom cofounded Industrial Memetics with Nick Levay and began work on MemeStreams, a innovative collaborative blogging system that combines social networking and reputation systems technology. Tom has operated electronic communities both on the web and over the modem since 1991. He is also an Internet privacy and freedom advocate and frequently speaks on technology policy issues. In 1996 he cofounded Electronic Frontiers Georgia, where he participated in a successful effort to prevent the State of Georgia from banning pseudononymous speech online. Tom received a BS in Computer Engineering from the Georgia Institute of Technology in 1999.
---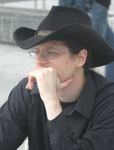 Nick Levay
Chief Executive Officer
Nick Levay wears a black cowboy hat. In 2001, Nick cofounded Industrial Memetics with Tom Cross after starting the development of MemeStreams. Nick has over a decade of experience with Internet media, information technology, and information security, as well as an educational background in traditional media. Nick played a key role in the design and construction of several Internet Service Providers in North America and Asia. Nick has a BS in Music Business and Communications Management from Middle Tennessee State University.
---